Some time ago I was contacted by Cutey, a jewelry brand from UK. They've just started so they asked me to review their bracelets. I was very happy to receive the
Gaia
and
Eris
charm bracelets. Let's have a closer look at them, shall we?
The
Cutey bracelets
are made by beads of different colours and shapes. Each piece of jewelry comes with several beads that can be easily added or removed, so it's like having different bracelets! How nice is that? The picture below shows the
Gaia
bracelet. It features pink, light green and silver beads; some of them look like made of Murano glass, which I really like. My favourite part of the bracelet is the multi-faceted pink bead. It has a regular clasp, a bit difficult to close with one hand! I always find that kind of clasp a bit uncomfortable; you always need an extra pair of hands to manage it, haha! It's very feminine and classy overall - I think I'm gonna wear it a lot.
The
Cutey
bracelets come in two different chain lengths, 20cm and 18cm. The 20cm one,
Gaia
, fitted my wrist perfectly, while
Eris
was a tiny bit too tight. Nothing too uncomfortable anyway.
This one is
Eris
. It features red toned beads and a large key charm. It's a bit less girly than the Gaia one. It has a different clasp from the
Gaia
that you can see better in the photo on the website
here
, which I find easier to close. It's a pretty little bracelet, but I think it'd look even nicer without the red beads! Or maybe even without all the beads, just with the key charm. I'm a minimalist when it comes to jewelry, haha! ;)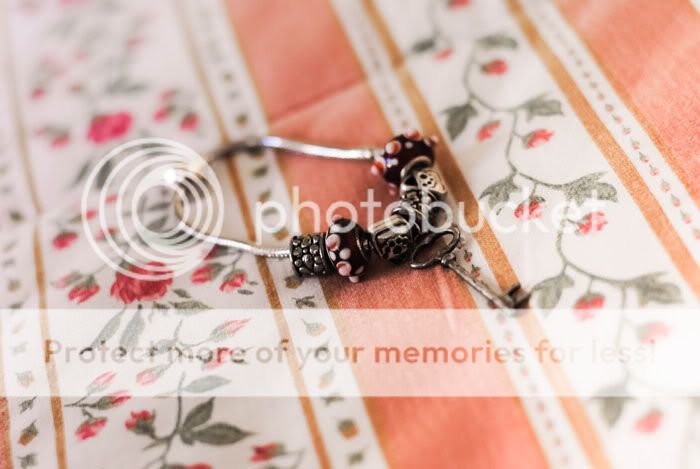 I love how with
Cutey
you can get cute bracelets without spending hundreds of euros on a Pandora. You get the same style but a much lower pice - only £12,99! The Cutey bracelets are pre-made now, but soon you'll be able to choose your own beads to create a personalized bracelet, just like with Pandora.
Another thing I like about Cutey is the names of the pieces of jewelry! Tartarus, Pontus, Hemera, Moirae.. they all come from the Greek mythology.. I love that!
As you can see, they look lovely even worn together, but I'm going to part with
Eris
(which, by the way, is already sold out on their website.) Yes, I'm going to give it away! Just fill up the form below to win a
Cutey
bracelet :)
a Rafflecopter giveaway